Every donation helps a family help themselves.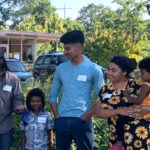 When you donate locally, your gift will continue to grow right here in Sonoma County!
Local families will be able to make home ownership a reality, fostering stability and full participation in their communities. Habitat families pay local, county and state taxes.Local neighborhoods are revitalized when Habitat transforms a distressed property into a well-built home occupied by a family.Local older adults receive critical home repair allowing them to remain in their homes and community they love.
Donate Via Check If you would like to make a donation but would rather not do so over the internet, you can mail a check to:
Habitat for Humanity of Sonoma County
1201 Piner Rd., Ste. 500
Santa Rosa, CA 95403
Pay Over Phone Via Credit Card by calling (707) 806-8484 or in person by visiting our office during normal business hours.
Habitat for Humanity of Sonoma County relies on the generosity of the community to achieve our mission. Through donations of cash, land, vehicles, goods and services, construction materials, and donations of home improvement materials to ReStore, Habitat for Humanity is able to accomplish its mission of partnering with volunteers and families in need to build modest, affordable homes for low-income families.
Stock Donation
While time, money and housing supplies are the most common donations to Habitat, there are several other ways to give as well, including donating your stocks.
This is a fast and simple process which can be done through an electronic transfer, or certificates can be donated through the mail.
Donations of stocks allows us to ensure that even more families have a safe, affordable place to call home. The housing crisis presents an ever-growing need, and we use everything at our disposal to respond.
Work Place Giving
Make your support go even further with workplace giving! By giving through your workplace, your company may match your donation, the donations of retirees and employees' spouses, or even your volunteer hours.
Let us know if you want to start a new campaign at your corporation, add Habitat to an existing program, or have questions about completing your matching gift request with your company by contacting our development team.
You may need the following information to complete your matching gift request with your company:
Employee Identification Number (EIN) or Federal Tax Identification Number: 68-0041170
Organization Name: Habitat for Humanity of Sonoma County.
Organization Mailing Address: 1201 Piner Rd., Ste. 500, Santa Rosa, CA 95403
Phone: 707-806-8484
eMail: j.salyer@habitatsoco.org
Web Site: HabitatSoCo.org
Organization Type: Human Service
Donate a Vehicle
When you donate a car, truck, boat or RV to Habitat for Humanity's Cars for Homes™ program, you are helping Sonoma County Habitat for Humanity build homes in partnership with families within your community! Take a look at Habitat International's brochure about the program.
Donating a car, truck, boat, RV or other vehicle is quick and easy, and your donation could be eligible for tax deduction purposes (consult the IRS or your tax advisor for details). Learn more…
Donate Land or a House
To be able to provide as much housing as we can for deserving families, Habitat relies on donations from the community.
Donations of land, or of housing to rehabilitate, greatly help us reduce costs and allow us to provide the most affordable mortgages possible to our homeowners.
Donate Items to ReStore
Got good stuff to donate?  Bring it over to ReStore.
ReStore needs your gently-used furniture, household items, tools, hardware, and more.