Vote for US – Bohemian's Best of 2023
Thank you for voting us "Bohemian's Best of" 3 years in a row! Let's do it again this year. Vote for us for 2023. Last week to vote, vote by Dec 1st!
What can you find at ReStore?
ReStore is Sonoma county's largest sales floor at 30,000 sq. ft. discount home improvement store that sells new and gently-used building materials, furniture and antiques. At ReStore you will find antiques, furniture, appliances, cabinets, doors, windows, flooring, plumbing, tools, garden, paint, and lighting. Inventory is donated by individuals, contractors, businesses, and wholesalers. ReStore profits helps Habitat for Humanity build affordable homes in Sonoma County.
Some of our latest items
Follow us on Instagram or Facebook to see what new items are added daily.
Donate to ReStore
Got good stuff to donate? Bring it over to ReStore. ReStore needs your gently-used furniture, household items, tools, hardware, and more.
Get more info about items we accept or schedule a pickup.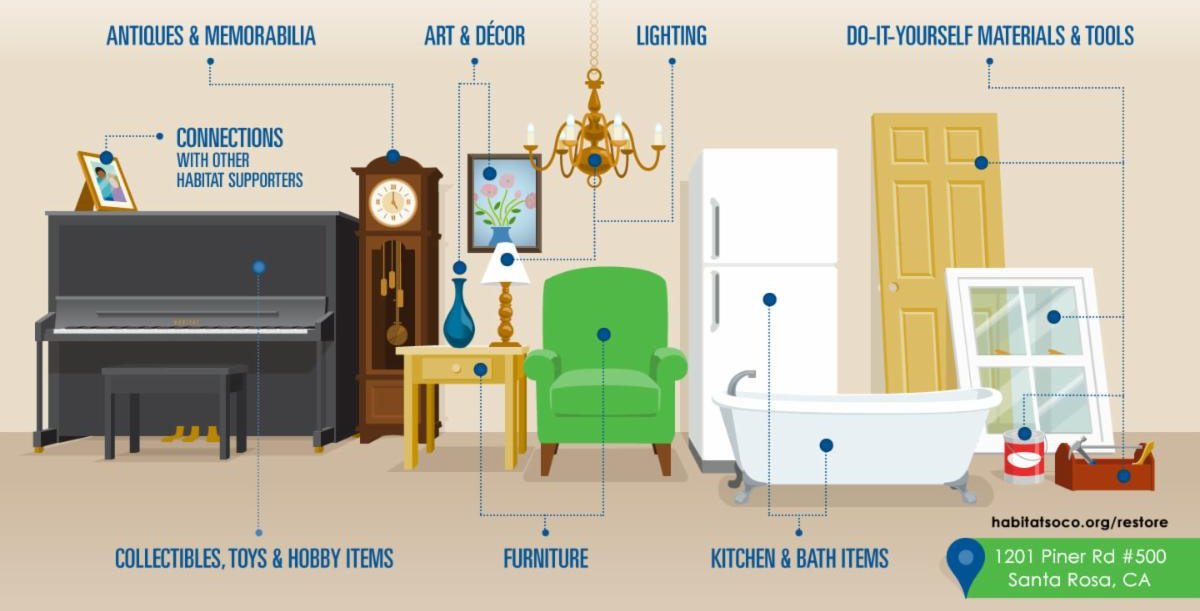 Subscribe to our Newsletter
Stay informed with what's happening at Habitat Sonoma County ReStore. Our weekly newsletter contains the very latest info on new items, big sales, and the latest ReStore news.
Volunteer at ReStore
Got some free time? Come volunteer at Restore, we need you! ReStore could not operate without its volunteers. Learn more about volunteering at ReStore