Best of Sonoma – Bohemian.com
There's a difference between being "Number One" and being "The Best." Number One is merely a popularity contest, a numbers game best played by robots. But being The Best — that starts with true human hearts and the promise of superlative performance no algorithm could appreciate. That's what our readers expect and that's what our annual Best of the North Bay winners consistently deliver. Vote for Us!
What can you find at ReStore?
ReStore is Sonoma County's 17,000 sq. ft. discount home improvement store that sells new and gently-used building materials, furniture and antiques. At ReStore you will find antiques, furniture, appliances, cabinets, doors, windows, flooring, plumbing, tools, garden, paint, and lighting. Inventory is donated by individuals, contractors, businesses, and wholesalers. ReStore profits helps Habitat for Humanity build affordable homes in Sonoma County.
Some of our latest items
Follow us on Instagram or Facebook to see what new items are added daily.
Donate to ReStore
Got good stuff to donate?  Bring it over to ReStore. ReStore needs your gently-used furniture, household items, tools, hardware, and more.
Get more info about items we accept or schedule a pickup.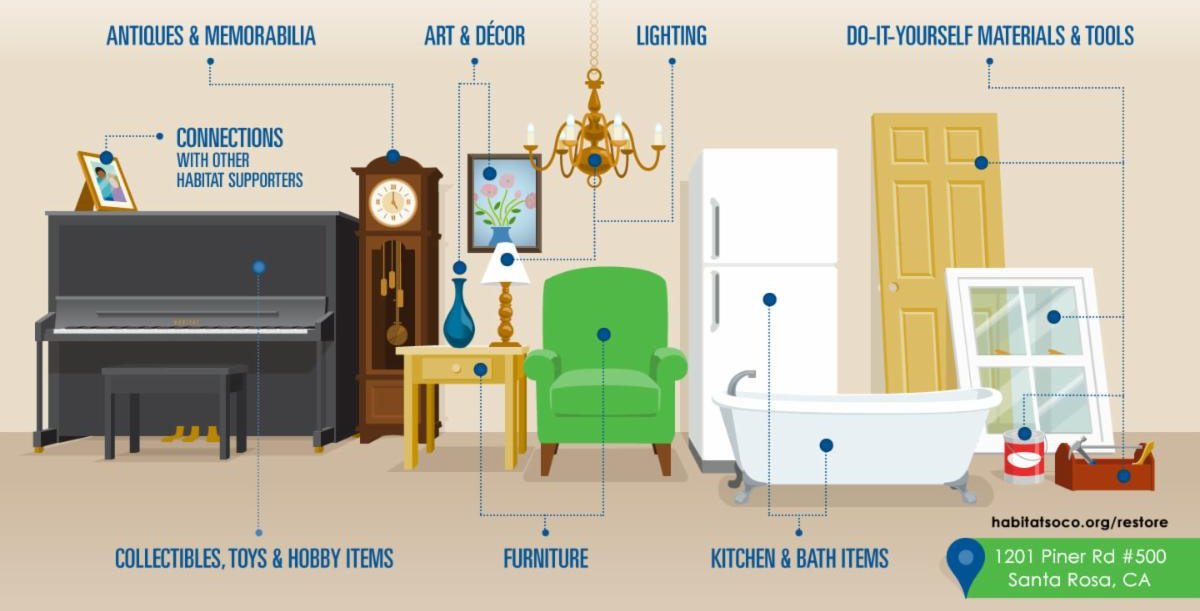 Subscribe to our Newsletter
Stay informed with what's happening at Habitat Sonoma County ReStore. Our weekly newsletter contains the very latest info on new items, big sales, and the latest ReStore news.
Volunteer at ReStore
Got some free time? Come volunteer at Restore, we need you! ReStore could not operate without its volunteers. Learn more about volunteering at ReStore
ReStore is in compliance with State of California guidelines to stop the spread of COVID-19
PLEASE DO NOT COME INTO THE STORE IF YOU ARE EXPERIENCING SYMPTOMS. THANK YOU!
Face masks are required to enter ReStore and must be kept on while inside the store
Practice Social Distancing of 6 FT or more with ReStore staff and other shoppers
Please observe guides on floor when waiting in line
Please bring your own measuring tape, (or use the Measure App on your smartphone!)
Thank you for your cooperation!