Enabling seniors to age safely, independently, and comfortably in their homes.
We believe that everyone deserves the opportunity to age with dignity in their own home and community regardless of age, income, or ability level. By providing affordable home repairs, Aging in Place preserves home ownership and gives low-income older adults the choice of where they grow older. Our skilled construction staff and group of volunteers perform work to alleviate critical health, life, and safety issues for homeowners in need.
At Habitat, we demonstrate our passion and dedication through our actions. We feel elated to have already helped four low-income seniors in our community. For each project, our team rigorously followed County safety guidelines to ensure both the volunteers and homeowners' safety.
James B., a retired Army Veteran, confessed that physical and health limitations have prevented him from making the necessary home repairs for aging in place. The recent wildfires have forced pests to evacuate forests and seek shelter in homes. Unfortunately, James became a victim to their destructiveness. "You don't know how much you are helping," he repeatedly said when our three Habitat employees sealed the holes in his floor, thus preventing rodents from continuing to enter his home.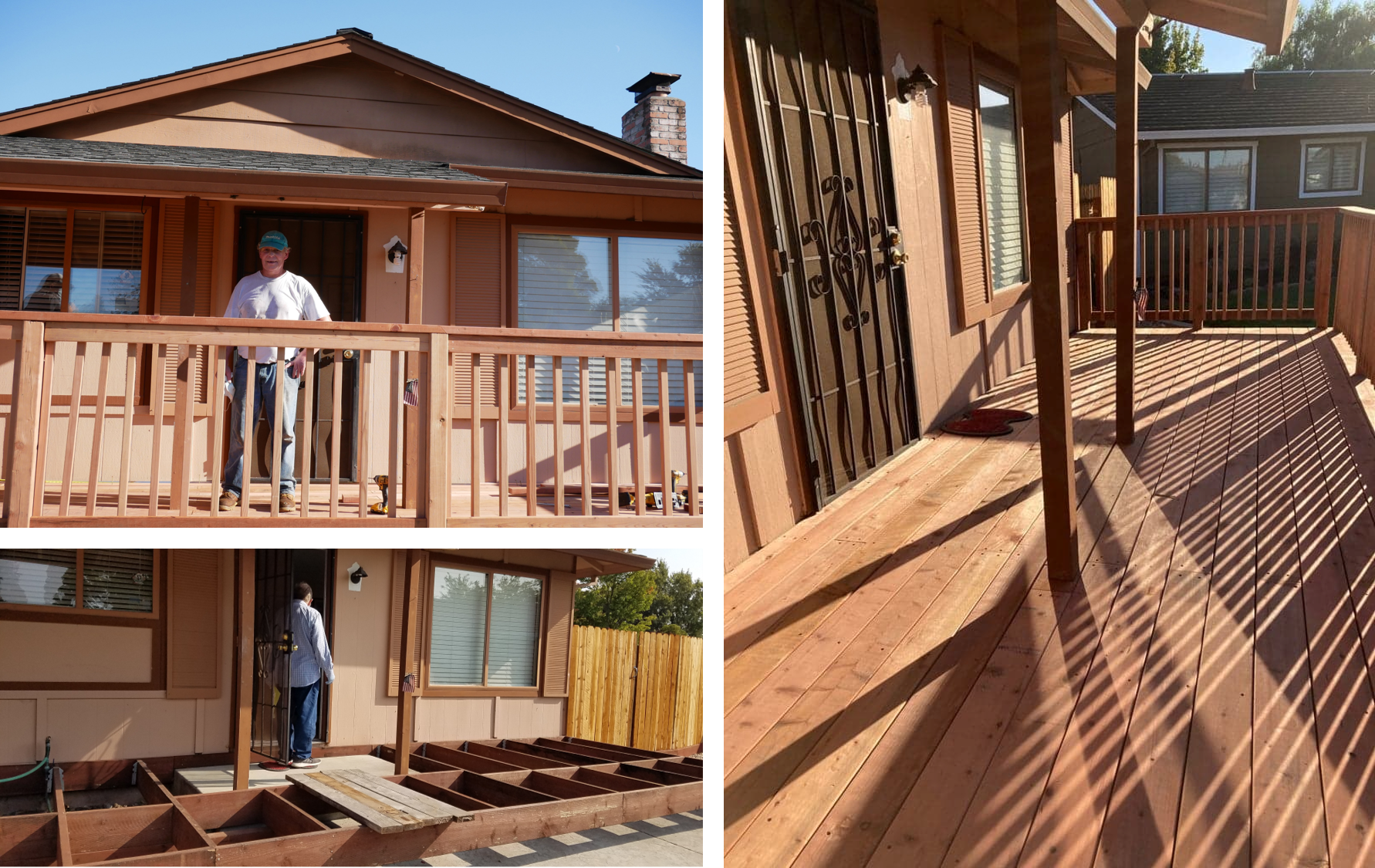 For the following project, Habitat's enthusiastic volunteers completed a previously unsafe deck for a gentleman that had suffered a traumatic brain injury. Anthony had began framing a deck some time ago but found himself unable to finish it. The only way to enter his home was to traverse a wooden plank, laid precariously across the deck's wooden frame. Since completing the project, his sister has thanked us and expressed her relief about how her brother will no longer need to risk injury, simply by entering his home.
What a privilege it is to be given the opportunity to serve low-income seniors in our community. Our objective is to continue addressing individual's needs holistically and complete person-specific home repairs and modifications – from installing grab bars to building ramps and updating flooring.
We are always actively looking for more older adults that could benefit from Aging in Place.
If interested in participating in our program, please fill out our interest form below.
For more information about eligibility, potential costs, or Habitat's scope of work, please contact our office at (707) 578-7707 or email [email protected]
Aging in Place Home Repair Interest Form