Hundreds of volunteers, sponsors, donors, building partners and homeowner families have helped us build affordable homes and provide Sonoma County residents with a simple, safe, and affordable place to live.
With your help, we have built 48 homes and completed 87 Aging in Place / Neighborhood Revitalization projects in Sonoma County. —Thank you!
Angela R.
–  Unable to come and go safely from her home and repair rotted bathroom floors, she reached out to us. Thanks to our supporters, Nathan went and bought materials, Julie and the mighty volunteers met him at the site. Within a week and free of charge – well, look at Angela's beautiful smile.
Christmas L.
– Repaired rotted entryway deck boards and platform. Installed gutters, gutter guards, and a downspout on the main house. Framed and insulated kitchen skylight. Installed a grab bar in the shower. She's hoping with the gutter repairs and installation it will bring rain. 🙂
 
Judith H.
– Rotted subflooring in kitchen and bathrooms; Judith knew she needed help. She reached out and Habitat volunteers and staff installed new subfloors with beautiful/durable laminate flooring. Preserving a home. Providing safety.
 
June S.
– Worn exterior paint leading to wood rot and single-pane windows chilling June to the bone; Habitat jumped in to help. New exterior paint and dual-pane windows now keep June warm while preserving her home for years to come.
Joyce V.
– Recently finding she would need a walker to help support and protect her from falls and other injuries she reached out to Habitat for help. And with a safe and permitted ramp leading to her home she retained her independence.
Joseph P.
– Unsafe entryway stairs and drafty windows concerned Joseph. His home was at risk of mildew and dry rot around old, cracked windows. The stairs leading to his home was a tripping hazard.  Julie, Rick, and a team of skilled volunteers got to work to help make his home safer for long-term living as Joseph wished.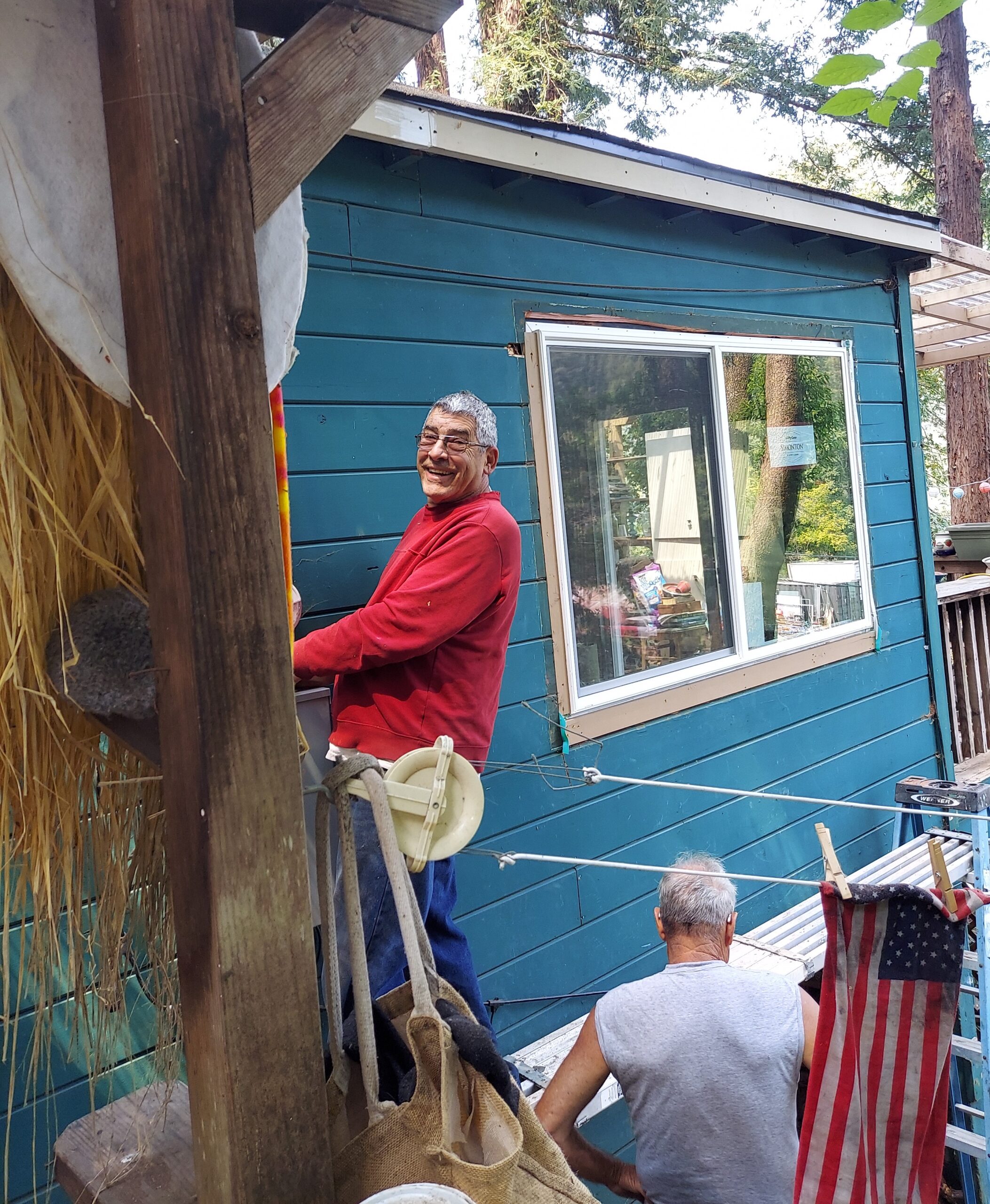 Lois P.
– Lois's kitchen was unsafe to cook in, floors were causing a tripping hazard, and the walls needed to be repaired. For our tenth Aging in Place project, Habitat staff along with a mighty team of volunteers provided Lois with safe appliances, flooring, walls, and cabinets. Now she is safe and happily preparing meals.
In partnership with PG&E.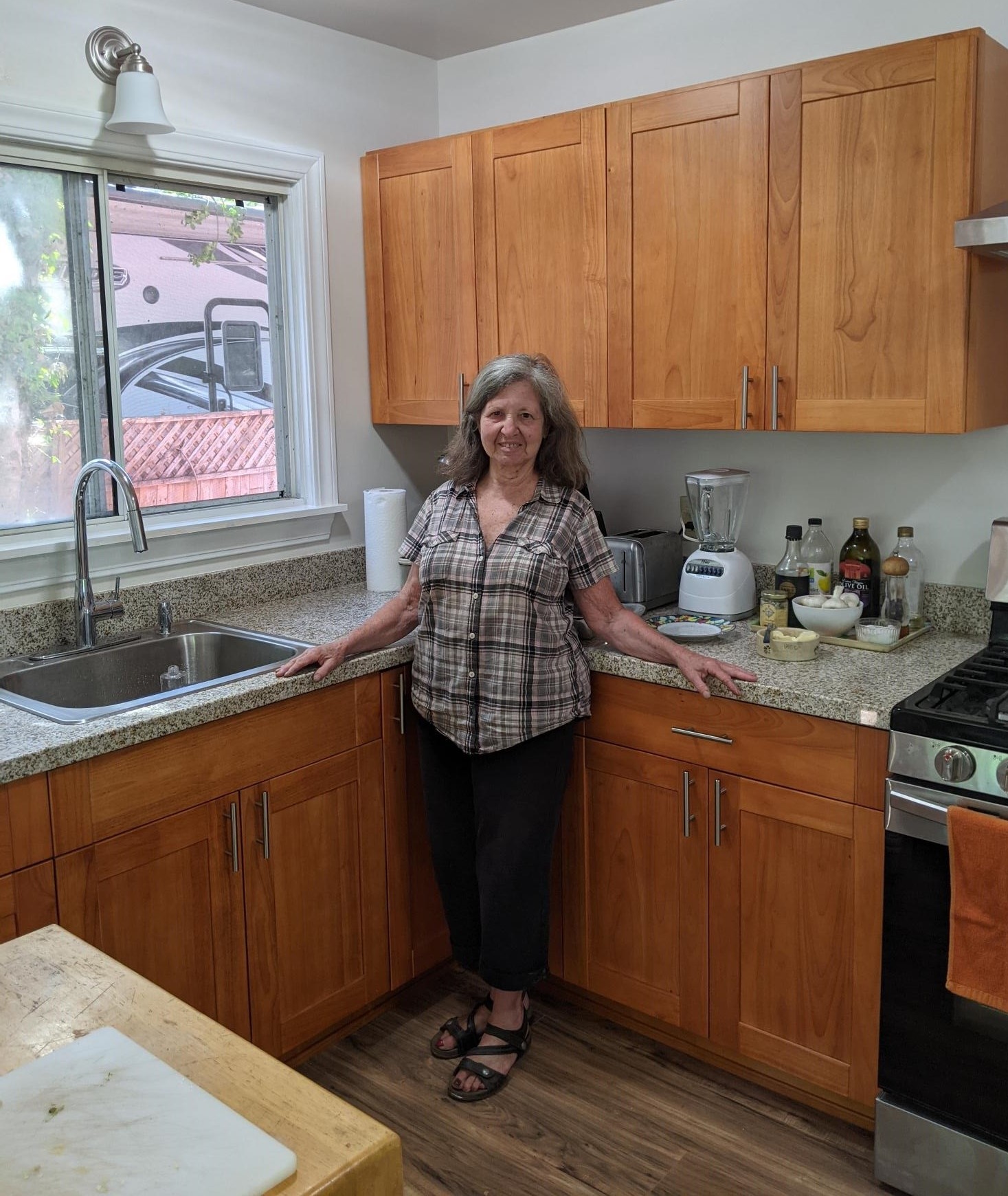 Don and Ellen M.
– "What a relief it is to now enjoy a safe and beautiful deck for the rest of our retirement years. Sincere thanks to everyone. We truly appreciate that you have such a compassionate home repair program for low-income seniors." Don and Ellen's deck was in disrepair and causing a safety hazard at the entrance to their home. Habitat stabilized, rebuilt the deck and stairs providing a safe environment for them to enjoy for years to come.
Sue M.
– "For the first time in YEARS, I was able to get in the front door when it was raining, and NOT get dripped on! The old gutter failed right above the door. Thank you ALL again – God bless Habitat for Humanity." For our fourth Aging in Place project, Habitat of Sonoma installed gutters around Sue's home. The side of her home had started to rot because of her lack of functional gutters, which are needed to collect the abundance of rain in her area.
In partnership with The Jewish Community Federation & Endowment Fund, and Spring Lake Village.

Cassandra T.
– "You don't know how worried I got every time it rained. I was afraid the rotting on my window trims would spread to the siding on my home. It was just so stressful." Cassandra T., our third AIP homeowner, expressed tremendous relief when Habitat of Sonoma replaced the rotting trim around her windows.
In partnership with The Jewish Community Federation & Endowment Fund, and Spring Lake Village.
Anthony J.
– Habitat's enthusiastic volunteers completed a previously unsafe deck for a gentleman that had suffered a traumatic brain injury. Anthony had began framing a deck some time ago but found himself unable to finish it. The only way to enter his home was to traverse a wooden plank, laid precariously across the deck's wooden frame. Since completing the project, his sister has thanked us and expressed her relief about how her brother will no longer need to risk injury, simply by entering his home.
In partnership with The Jewish Community Federation & Endowment Fund, and Spring Lake Village.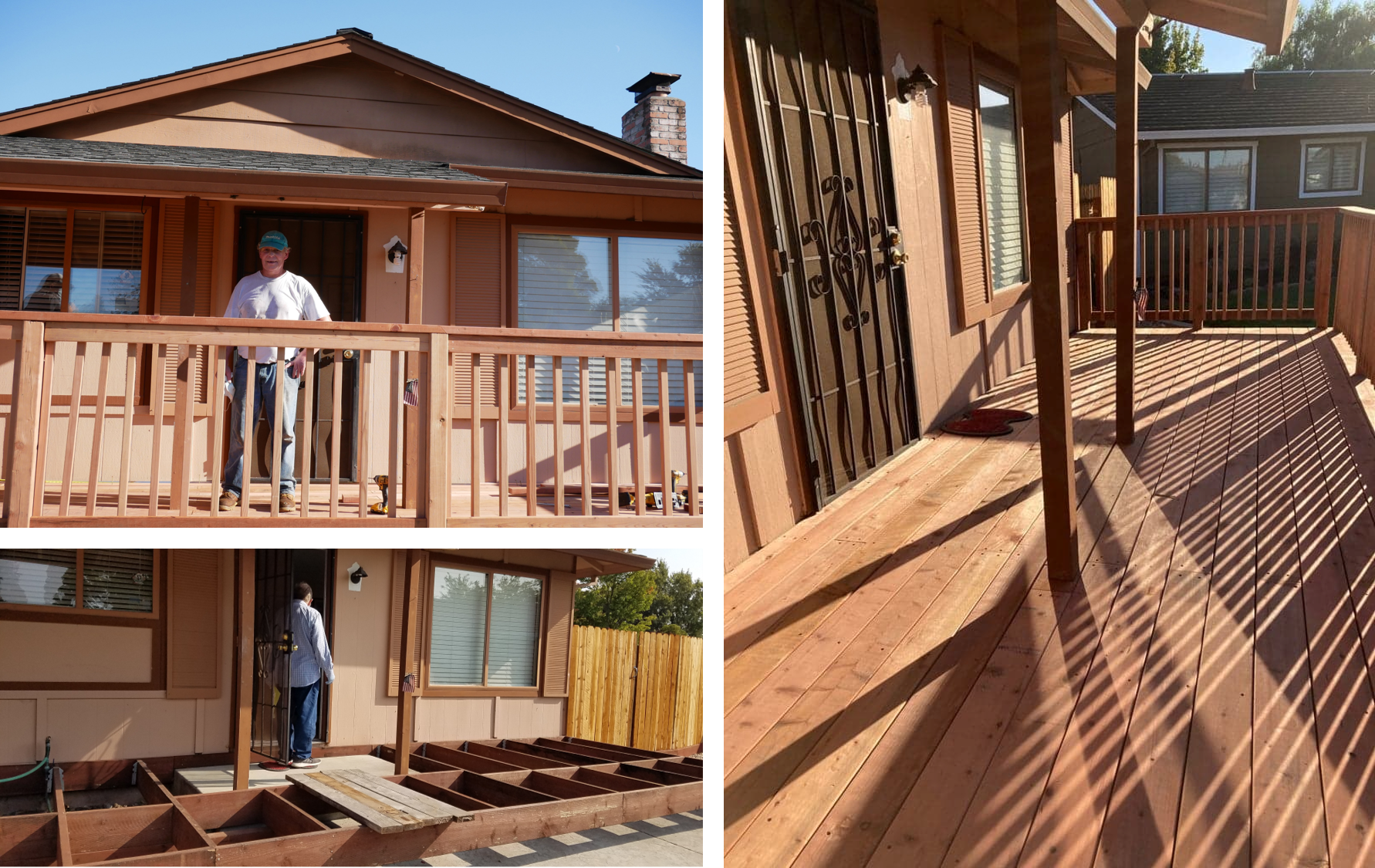 James B.
– James B., a retired Army Veteran, confessed that physical and health limitations have prevented him from making the necessary home repairs for aging in place. The recent wildfires have forced pests to evacuate forests and seek shelter in homes. Unfortunately, James became a victim to their destructiveness. "You don't know how much you are helping," he repeatedly said when our three Habitat employees sealed the holes in his floor, thus preventing rodents from continuing to enter his home.
In partnership with The Jewish Community Federation & Endowment Fund, and Spring Lake Village.
Green Valley Village
– 2 homes on Thiessen Lane in Graton, CA
In partnership with Thiessen Homes, Poppy Bank, Summit Electric, U.S. Bank, Celebrate Community Partnership, PG&E, Wells Fargo Bank, Relief Wines, Rabobank, Walter Hansel Winery, and numerous sponsors.
Sonoma Wildfire Cottages
– 9 cottages on Medtronic Fountaingrove Campus in Santa Rosa, CA (all for families impacted by the 2017 wildfires)
In Partnership with Rebuild Wine Country, Medtronic, Safeway, and numerous sponsors
Mark West / Larkfield Estates Fence
– One mile of common fencing for 2 subdivisions, post-2017 fires, in Santa Rosa, CA
In Partnership with REBUILD North Bay Foundation and numerous sponsors
Read more here.
---
Harris Village
– 4 homes on West Steel Lane in Santa Rosa, CA (1 Rehab, 3 New Construction)
In Partnership with City of Santa Rosa, Housing Authority, Tri-County Bank and PG&E
---
Woodland Hills
– 5 homes on Woodland Hills Drive, Cotati, CA
In Partnership with Sonoma County Land Trust Partnership, City of Cotati and PG&E
---
Rehabilitation Homes
– 1 home on Fulton Road, Fulton, CA; 1 home on Marty Ct, Santa Rosa, CA; 1 home on West Third St, Santa Rosa, CA
In Partnership with City of Santa Rosa and Sonoma County Housing Authority
---
University Street
– 2 homes on University Street, Healdsburg, CA
In Partnership with City of Healdsburg
---
Johnson Street
– 2 homes on Johnson Street, Sebastopol, CA
In Partnership with City of Sebastopol
---
Litchfield Avenue
– 2 homes on Litchfield Avenue, Sebastopol, CA
In Partnership with City of Sebastopol

---
Kali Subdivision
– 6 homes on Mera Court, Santa Rosa, CA
In Partnership with City of Santa Rosa and Housing Land Trust
---
Ripley Street
– 1 homes on Ripley Street, Santa Rosa, CA
In Partnership with Sonoma County Housing Authority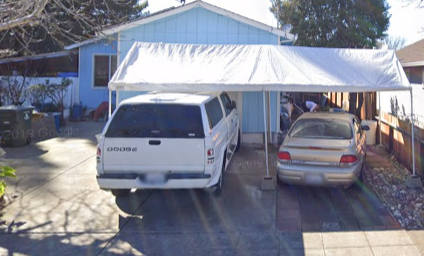 ---
Link Lane
– 1 home on Link Lane, Santa Rosa, CA
In Partnership with Sonoma County Housing Authority