In October 2017, wildfires destroyed more than 5,000 homes in Sonoma County. In the immediate months after the fires, Habitat's ReStore provided over $400,000 in home goods and services to survivors.
Now, Habitat for Humanity of Sonoma County is providing temporary housing for fire survivors, and dramatically increasing the number of affordable permanent homes we create to help rebuild our community.
Sonoma Wildfire Cottages
The Sonoma Wildfire Cottages are near completion and families will be able to move in shortly! The application period has closed and families are currently being reviewed for selection.
The nine Cottages will provide temporary rental housing for 2 to 5 years for fire survivors working to rebuild or secure other permanent housing. These 1- or 2-bedroom homes range from 380 to 744 square feet and are located together on the Medtronic campus in Santa Rosa.
The Cottages also are an important demonstration project for modern construction technologies to inform the future of building in Sonoma County. Habitat for Humanity Sonoma County is partnering with renowned Hurricane Katrina Cottage developer and designer Marianne Cusato. Design and installation of the Cottages is helping expand Habitat's capacity to build more homes even more quickly and efficiently.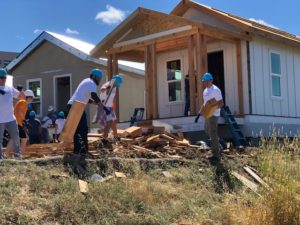 Sonoma Wildfire Cottages Partners